29 Oct

Growing number of flexitarians and the rising demand for plant-based meat

The range of meat alternatives available in the market has been expanding over the past few years with the rise in vegetarian as well as vegan eaters, and the sales of plant-based meat products are growing exponentially. The trend of veganism has been largely propelled by flexitarians, individuals who are aiming to reduce their meat consumption.

 

Consumers are increasingly focusing on minimizing their meat intake amid growing concerns pertaining to animal welfare, health risks as well as environmental hazards. Findings from a study suggest that the industry has witnessed a noticeable shift occurring from a necessity-based meat alternative market to a desire-based one.

 

Reports published by the Plant Based Food Association (PBFA) illustrate that sales from meat alternative products surpassed 3 billion in 2018. The increasing inclination toward avoiding meat diet alongside the awareness generated by animal welfare organizations will positively influence the growth of plant based meat market in the future.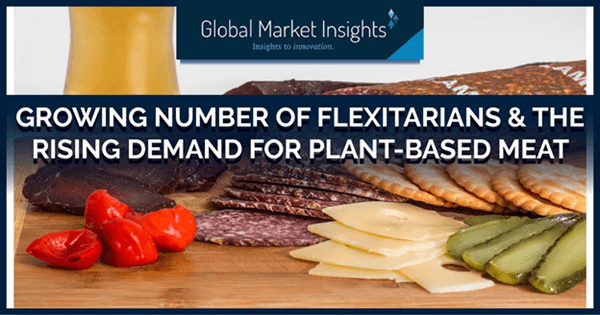 Plant-based foods are flooding U.S. grocery stores and supermarkets
Plant-based foods have witnessed booming interest from consumers, encouraging key market players to penetrate the space in hopes of introducing their products into the competitive supermarket aisles.

 
The growth has mainly been observed in the U.S., where plant-based meat substitutes are crowding grocery stores. Here is a list of the America's leading fake meat vendors and their respective products:

 
Beyond Meat: The brand has developed burgers, sausages, crumbles and ground meat made from brown rice, peas, mung beans and sunflower seeds which are now available at more than 53,000 restaurants and retailers worldwide.

 
Impossible Foods: The chain had successfully managed to make a bleeding burger from soy protein. The product which was originally launched only in fast-food chains, will now be available for sale in grocery stores and supermarkets after FDA granted it approval for the usage of heme.

 
Nestle SA: The world's largest packaged food group intends to sell a pea-based product called the Awesome Burger under its U.S. plant-based Sweet Earth brands in restaurants and supermarkets this fall.

 
Global Market Insights, Inc., estimates that U.S. soy-based meat market demand will surpass consumption at over 100 kilo tons by 2025.

 
Plant-based fish is the new plant-based meat
In recent times, investors have spent enormously into plant-based meat, with Impossible Foods worth more than $2 billion after raising $300 million in May and Beyond Meat valued at over $9 billion following its IPO in the same month.

 
However, there was an absolute gap in fish, remarked Chris Kerr who co-founded venture capital firm New Crop Capital in 2015 to invest in food startups. In 2016, Kerr established a new company, Good Catch, to develop plant-based tuna using 6 different legumes, including soybeans and peas.

 
Currently, there are almost 20 brands in the U.S. making plant-based seafood including Impossible Foods, that had recently announced producing an alternative for fish was a top priority,

 
Plant-based fish alternatives would provide an environmentally friendly solutions to problems such as overfishing and mercury contamination, further boosting product demand over the next few years. 

 
Giving up meat could provide several health benefits
A recently concluded study, where meat products were substituted with nutritionally sound meat alternatives, has demonstrated that plant-based foods offer significant benefits to humans as well as the environment.

 
Evidently, the team had used a computer to estimate the effects of substituting meat in the typical American diet with any of 500 plant-based diets, either by replacing just beef, or removing all meat.

 
Each diet comprised of 35 plant foods, randomly chosen from a larger menu of fruits, vegetables, whole grains, beans and nuts. On an average, buckwheat and soy collectively provided one-third of the diet's total protein.

 
Overall, the researchers estimated that if all Americans replaced meat for plant-based foods, the country's diet-related needs for crop land, nitrogen fertilizer and carbon emissions could be lowered by 35-50%.

 
Rapid adoption of plant-based meat alternatives driven by increasing consumer focus over health maintenance will undeniably foster industry scope. Based on a new research report by Global Market Insights, Inc, plant based meat market is poised to exceed USD 320 million by 2025.