29 Oct

How is new age manufacturing influencing metal foam industry outlook?

The commercialization matrix of global metal foam market has experienced a major change of dynamics since the last few years, a feat that can be attributed to the vast application expanse of this material. The properties of metal foams like high porosity, impact resistance, and sound absorption have substantially augmented metal foam market size over the last few years due to increasing usage across a plethora of industries.

 

The ever-expanding domains of building and construction, automotive, aerospace, energy, and healthcare are primarily responsible for the growth of metal foam market share. The automotive and construction industries in particular, across the emerging economies, have been depicting expansion at a highly appreciable pace. Given the extensive deployment of metal foams in vehicle production and building construction, developing nations are anticipated to emerge as highly lucrative grounds for metal foam market.

 

Metal foams are majorly made from materials such as aluminum, copper, zinc, titanium, and others. Aluminum metal foams hold a significant industry share owing to their features like durability, light-weight, mechanical strength, high porosity, thermal resistivity, and sound proofing. According to a research report by Global Market Insights, Inc., metal foam market is estimated accrue US $100 million by the year 2025.

 

Analyzing the influence of automotive industry on global metal foam sale

The automotive industry is the biggest consumer of metal foams across the globe, both in terms of volume and value. Rising preference for electric vehicles among consumers due to the growing severity of vehicular emission regulations will increase product demand, in turn, driving metal foam industry share.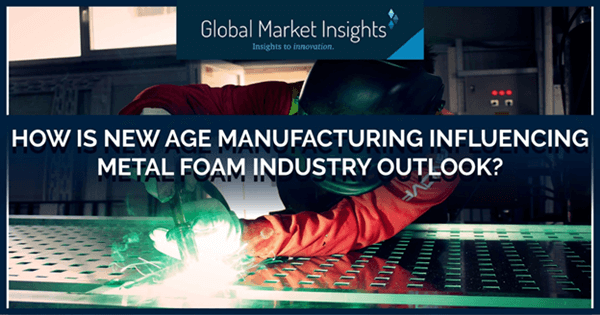 The number of plug-in electric vehicles around the world rose to 5.6 million at the beginning of 2019, which includes light commercial vehicles and passenger cars, claim credible reports. To leverage the massive potential of electric vehicles market, Lexus, the luxury car brand of automaker Toyota, has unleased plans to roll out its first electric car in Tokyo Motor Show to be held in October 2019.

 
The ongoing automotive industry trend to decrease vehicle weight will propel the demand for metal foams. The growing use of metal foam for manufacturing light-weight vehicle components to decrease fuel consumption would amplify the growth prospects of this industry in the near future. Metal foams can act as sound inhibitors and firewall materials owing to their high thermal insulation, heat exchange, and fire resistance abilities.

 
Rising investments by automotive companies in hybrid and electric cars to surge the demand for specialty metal foams, pushing the industry trends further.
Generally, metal foam is used in car bumpers for shock absorption during collisions. The infusion of this super-light, low-cost material in automobile parts could provide an effective and reliable way to decrease the impact of massive collisions and save lives. According to the World Health Organization, on an average, 1.35 million people die every year on account of road accidents. Increasing cases of road fatalities will support product adoption in the automotive sector and boost metal foam market share.

 
Building & Construction sector to strengthen overall metal foam sale
With the upsurge in urbanization and population, the construction industry has experienced commendable changes in the last few years and is still evolving. The rapid development of the construction industry owing to increasing incorporation of technologically advanced materials has paved the way for higher usage of metal foams in infrastructure development. The properties of metal foam like high stability and low weight make it extremely suitable for lightweight construction.

 
The building & construction segment of metal foam industry is projected to depict a CAGR of over 5% during 2019-2025.
Rising investment in construction activities, because of burgeoning per capita income and changes in living standards, are projected to augment metal foam industry share. For instance, in the UK average household disposable income in the fiscal year ending 2018 was £28,400, which has complemented various large scale constructions in the region. According to credible statistics, the UK economy witnessed construction orders of over £163 billion in 2017. The boom in the European construction sector will translate into lucrative growth opportunities for metal foam market players.

 
The product is deployed in wall coverings, building structures, floorings, etc., accredited to its superior fire resistant and thermal insulation properties. It is non-flammable and has low thermal conductivity, thus it takes a long time for fire to affect the structural, load-holding ability, and prevents the spread of fire. The rising trend of constructing buildings that are significantly fire resistant will add positive momentum to metal foam market outlook.

 
Aerospace metal foam market to amass substantial profits
Metal foam market from aerospace applications is slated to command massive gains in the approaching years on account of burgeoning air traffic, increasing usage of the product in manufacturing aircraft parts, and high demand for strong & light-weight components among airplane manufacturers. Surging emphasis on replacing ageing fleets is predicted to accelerate aircraft production, hence bolstering product demand over the forecast period.

 
According to trusted statistics, the number of flights that took off across the globe has constantly spiked since 2000 and is projected to cross 39.4 million in the year 2019, depicting the promising growth trajectory of the aerospace industry. Furthermore, aerospace sector has also grown on account of significant increase in disposable income, improving lifestyle, and growing affordability of air travel in emerging economies of MEA and Asia Pacific.

 
Durability, safety, and longevity of airplane components are anticipated to be the key aspects while determining the materials to be selected for component manufacturing. Metals foams have become a material of choice as they help in enhancing fire and heat resistance properties of wings, heat exchangers, blades, battery plates, and other parts in a cost-effective manner. It is thus rather overt that the global aerospace industry has lately become a prime influencer for metal foam sale worldwide.

 
All in all, superior characteristics offered by metal foam and burgeoning usage across numerous industries will enable the continued growth of metal foam industry size in the approaching years. Newer revenue streams are anticipated to emerge on account of research-driven newfangled applications of the material in healthcare sector. Biomedical implants based on metal foam are being researched; since the material is equipped with elasticity, it could replace current solid metal implants and enhance flexibility and bone regrowth.