16 Sep

3 Tech Stocks To Bet On As Market Recovers From Sector Selloff

U.S. equity markets closed higher on Tuesday, marking the second straight solid performance for the technology sector after the group's sharp selloff last week.

While most of the focus has been on the mega-cap 'FANGMANT' stocks, which include Facebook (NASDAQ:FB), Apple (NASDAQ:AAPL), Netflix (NASDAQ:NFLX), Google (NASDAQ:GOOGL), Microsoft (NASDAQ:MSFT), Amazon (NASDAQ:AMZN), NVIDIA (NASDAQ:NVDA) and Tesla (NASDAQ:TSLA), there are more than a few attractive names offering even greater returns.

Here are three to consider as the sector recovers from its recent selloff:
1. Pinterest
Pinterest (NYSE:PINS) has seen its shares significantly outperform the broader market in recent months, rebounding more than 270% from their March lows, as investors have become increasingly bullish on the image-sharing social media platform.
The stock ended at $37.61 on Tuesday, rallying back toward its all-time high of $39.63 touched on Sept. 2, giving the San Francisco-based company a market cap of around $20.8 billion.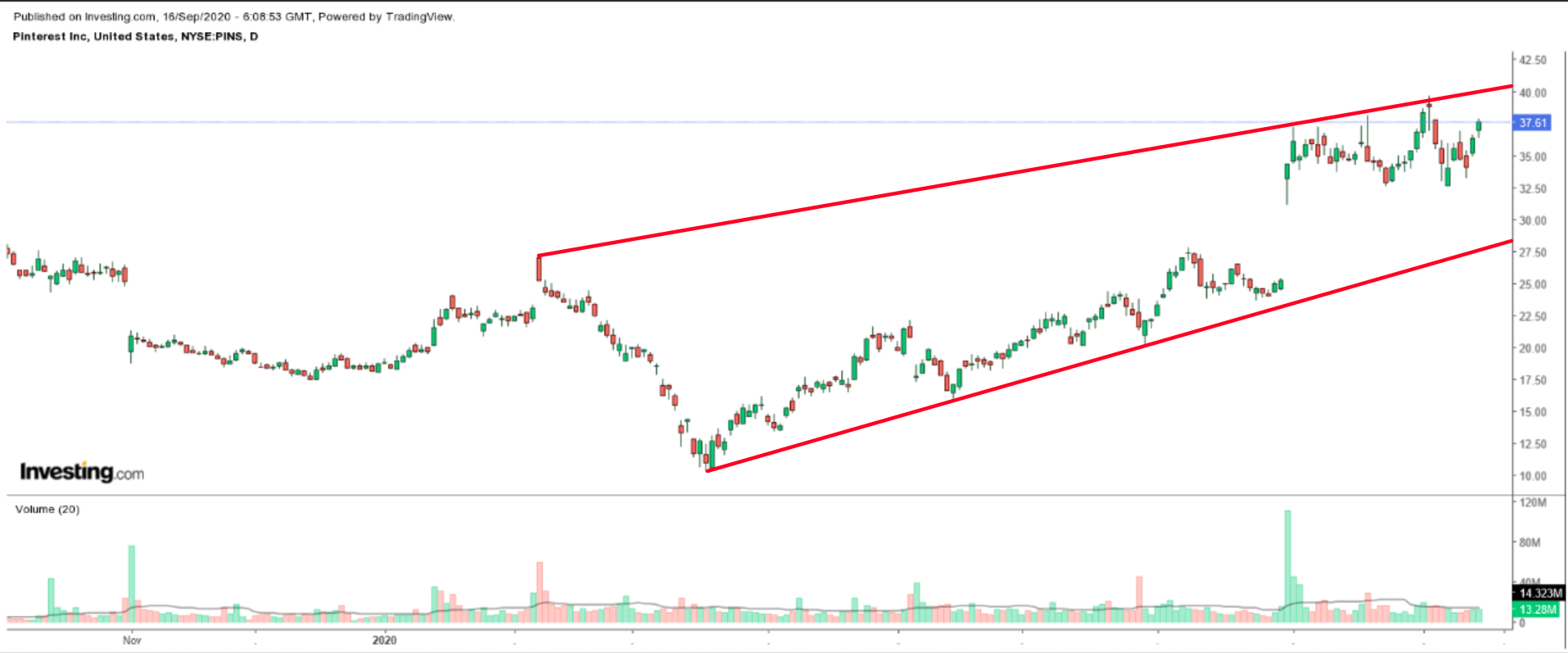 Pinterest Daily
The social media company's second-quarter results–released in late July–blew past estimates as people around the world flocked to its highly visual platform during the COVID-19 pandemic amid government-mandated lockdown measures. Pinterest reported its global monthly active users grew 39% year-over-year to 416 million in the last quarter.
"People needed Pinterest in Q2," the company stated in its earnings report.
"They needed a service that helped them adjust to radically changed circumstances — one that inspired them to cook at home, build vegetable gardens, plan activities for their kids and set up remote offices and home gyms, to name just a few typical COVID-19-related use cases we saw during the quarter."
In a sign that bodes well for the future, the company revealed that people who began using Pinterest during COVID-19 continued to have high levels of engagement even after lockdown measures eased, saying:
"In fact, new users in the COVID-19 cohort are currently more engaged than a cohort of new users during the same period last year."
Pinterest is scheduled to next report financial results on Friday, Oct. 30 before the opening bell. Consensus calls for earnings per share (EPS) of $0.03, while revenue is forecast to jump 34% compared to the same period a year earlier to $375 million.
2. NetEase
NetEase (NASDAQ:NTES), which develops and operates popular PC and mobile games in China, is one of the largest video game companies in the world. In addition to gaming, NetEase provides various internet services such as music streaming, online education, e-commerce and advertising.
The Hangzhou, China-based video game publisher has seen its shares surging around 80% since hitting a recent low in March. The stock, which reached an all-time high of $517.49 on Aug. 27, closed at $477.48 yesterday, giving the Chinese tech giant a market cap of around $64.3 billion.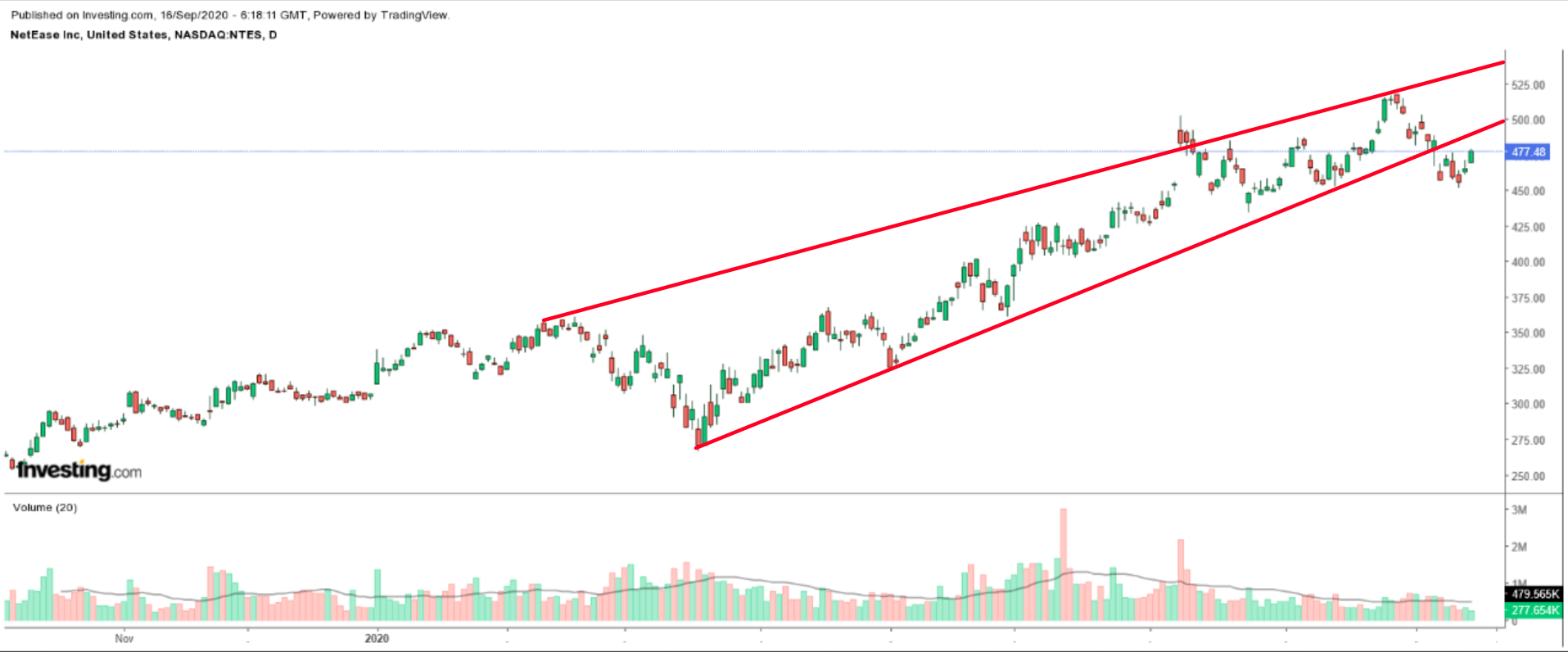 NetEase Daily
The most recent earnings report, which was released on Aug. 13, easily surpassed Wall Street's targets for the second quarter. Earnings per share jumped 32% from the year-ago period to $5.64, blowing past expectations for earnings of $4.58 per share. Revenue meanwhile increased 26% year-over-year to $2.57 billion, compared to forecasts for sales of $2.45 billion.
"We saw healthy gains across our business in the second quarter," Chief Executive William Ding said in the company's earnings release. "Strong performances from our online game services and NetEase Cloud Music drove the growth," he added.
NetEase is projected to report third-quarter results on Thursday, Nov. 12 before markets open. Consensus estimates call for the Chinese internet technology firm to post earnings of $3.93 per share, while revenue is forecast to climb 25% from the year-ago period to $2.63 billion.
3. Lattice
Lattice (NASDAQ:LSCC) shares have more than doubled since hitting a bear market low in mid-March, soaring 115% as it benefits from strong demand for its 5G, artificial intelligence and server security businesses.
The stock settled at $29.14 last night, giving the Hillsboro, Oregon-based manufacturer of field-programmable gate arrays (FPGAs) a market cap of almost $4 billion.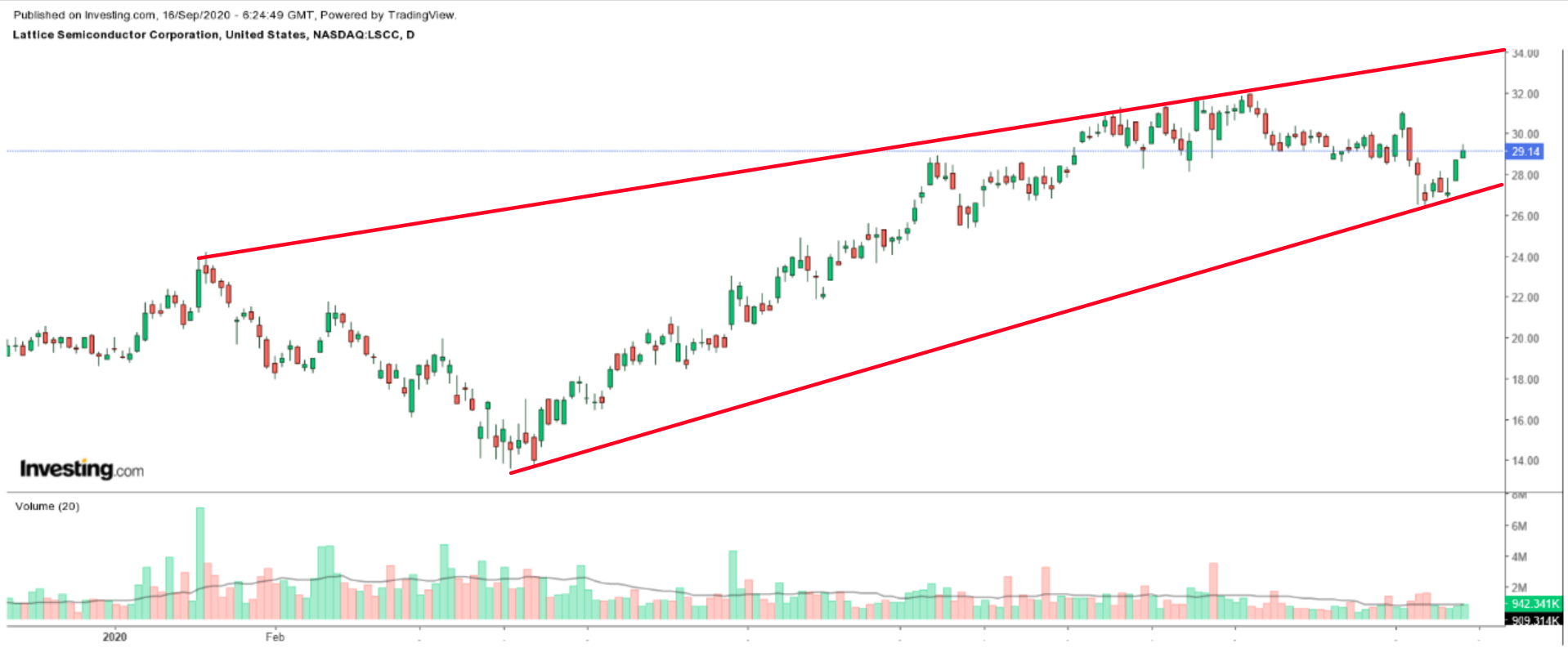 Lattice Semiconductor Daily
Shares rallied to their highest since Sept. 18, 2000 last month after the small-chip designer delivered second-quarter earnings and revenue that beat consensus estimates.
"Despite the challenging environment due to COVID-19," said Jim Anderson, the company's chief executive, "growth was led by strength in communications and computing, where we saw both sequential and year-over-year growth in 5G, servers and client computing."
Lattice–which is ranked number three in global market share of FPGA devices–is next scheduled to report results on Tuesday, Oct. 27, after the closing bell. Consensus calls for EPS of $0.15 per share for the third quarter, compared to earnings of $0.17 per share in the year-ago period. Revenue is anticipated to fall nearly 4% year-over-year to $99.7 million.
The chipmaker said it expects third-quarter revenue to be between $96 million and $106 million.