16 Sep

Could AstraZeneca Shares Be On The Way To New Highs?

The COVID-19 pandemic has created several equity market winners, including pharma giant AstraZeneca (LON:AZN) (NYSE:AZN). The company, along with its partner Oxford University, is developing a vaccine targeting SARS-CoV-2, the virus that causes COVID-19.

Year-to-date, AZN stock is up around 11% on investor optimism about the company's drug pipeline, including the potential vaccine. In late July, the UK-listed shares hit an all-time high 10,120p. They now change hands around 8,605p. U.S.-listed shares, which hit an all-time high at $64.94 during the same period, currently hover at $55.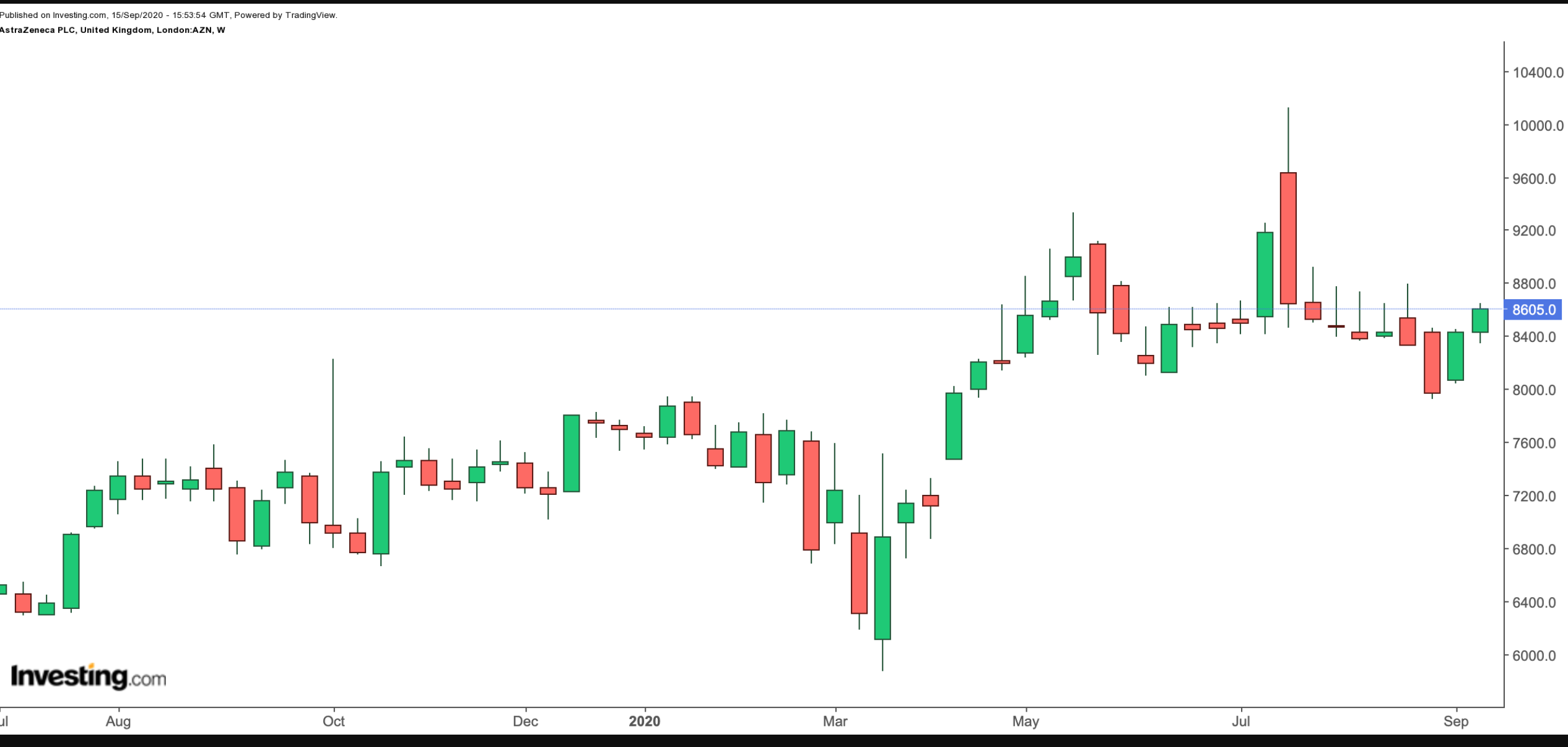 AstraZeneca 1-Year Chart.
As of Sept. 15, the number of globally reported COVID-19 infections has surpassed 29 million. The outbreak has already killed close to 1 million people worldwide. Therefore, governments and populations around the globe are ready to welcome the news that a vaccine or drug is ready for use.
In late July, AstraZeneca released robust Q2 results that beat expectations. Its current treatments as well as its channel of drugs for major ailments include cardiovascular disease, diabetes, gastrointestinal problems, infection, inflammation, oncology, renal and respiratory conditions. Investors now wonder if they should buy into the company, which is one of the frontrunners in the hot race to develop a vaccine against the novel coronavirus. Let's take a closer look.
AstraZeneca At Top Of The FTSE
In early 2020, before the pandemic became a part of our daily lives, oil major Royal Dutch Shell (LON:RDSb) (NYSE:RDSa) had the largest market capitalization on the FTSE 100, the UK's leading stock index.
By early spring, the leadership position had moved to AstraZeneca–clearly a sign of the times. Late-stage trials are under way not only in the UK, but also in Brazil, South Africa, and the U.S. Then, earlier this month, the company announced that it was pausing the clinical trials of its coronavirus vaccine candidate, AZD1222. The reason was a potential side effect.
However, earlier this week, the UK's Medicines Health Regulatory Authority gave the go-ahead to restart the studies. Between the two announcements, AZN stock has had a choppy ride.
On the FTSE, AZN shares are followed by another healthcare and vaccine leader GlaxoSmithKline (LON:GSK) (NYSE:GSK). In July, GSK and CureVac (NASDAQ:CVAC) announced strategic messenger ribonucleic acid (mRNA) technology collaboration. Messenger RNA transmits instructions to the body to produce proteins against a given disease. However, unlike AZN stock, year-to-date, GSK shares are down around 15%.
As a result of the recent increase in AZN stock, its valuation has become rich. Its forward P/E, P/S and P/B ratios stand at 22.68, 5.49 and 11.54, respectively. By comparison, those metrics for GSK stock are 12.94, 2.20 and 5.64.
Long-term investors who also pay attention to short-term technical analysis and charts may be interested to know that AZN stock is currently overbought. Although shares can stay overbought for a long time, a pullback in broader markets or the pharma sector would likely affect AstraZeneca, too.
Who Else Is In The Race?
Governments, citizens and investors around the world are watching a wide range of biotechs and pharma companies that have completed various steps in developing a treatment that may finally receive approval.
In addition to AstraZeneca, GlaxoSmithKline and CureVac, there is a range of companies working on a vaccine or another type of drug in the fight against the novel coronavirus. This list includes:
Shares in companies involved in the efforts to develop a cure against COVID-19 have become heavily driven by new headlines. As firms release news updates, investors either hit the "buy" or the "sell" button. In the coming weeks, any one of them could become a winner in the eyes of the public and investors.
Bottom Line
Vaccine development for COVID-19 is proceeding at full pelt while companies push to finalize clinical trials to develop a cure for the coronavirus. As one of the most-respected names in the biopharma space, AstraZeneca deserves investors' attention for its vaccine candidate as well as its regular pharma operations and additional drugs it has in the pipeline.
However, we find AZN shares pricey at these levels. Potential investors may regard a decline of 5%-7% as an entry point into the stock. In the case of positive news regarding its clinical trial, AZN may easily hit a new all-time high. Long-term shareholders would also be entitled to dividends. Current yield stands at 2.59%.
Investors may also want to do further due diligence on GSK stock whose dividend yield is 5.28%. We'd consider buying the dips.
On a final note, we believe Pfizer and Moderna may also be among the first companies to make successful announcements. Investors may want to keep those shares on their radar screen, too.